ANALISIS MANFAAT SKEMA SUBSIDI RESI GUDANG TERHADAP PETANI DAN INDUSTRI KAKAO
. Hasni

Kementerian Perdagangan
DOI:
https://doi.org/10.30908/bilp.v8i1.91
Abstract Views: 310 |
PDF Downloads: 434
Keywords:
Biji Kakao, Pendanaan Petani, Bahan Baku, Industri Pengolahan Kakao, Skema Subsidi Resi Gudang, Cocoa Bean, Farmer's Financial, Raw Material, Cocoa Processed Industry, Scheme of Warehouse Receipt Subsidy
Abstract
Penelitian ini bertujuan untuk menganalisis manfaat yang diperoleh petani dan industri pengolahan kakao nasional, jika memanfaatkan skema Sistem Resi Gudang (SRG) yang diberikan oleh pemerintah. Pada skema SRG, pemerintah memberikan subsidi bunga yang akan meringankan beban petani dan menghilangkan ketergantungan petani terhadap pinjaman tengkulak. Skema SRG yang diusulkan terbukti dapat mengatasi permasalahan pendanaan petani kakao dan permasalahan bahan baku industri pengolahan kakao. Analisis menunjukkan bahwa proporsi penyerapan bahan baku yaitu biji kakao fermentasi lokal oleh industri kakao nasional, dengan menggunakan skema SRG meningkat dari 35,3% menjadi 72,4% sedangkan impor biji kakao turun dari 64,7% menjadi 27,6%. Petani memperoleh peningkatan nilai manfaat 229,8% dibanding dengan kondisi sebelum SRG, sedangkan total nilai manfaat pada sistem kakao nasional dengan penggunaan skema SRG mengalami peningkatan 19,5%.
This research aims to analyze the benefits of the scheme of warehouse receipt subsidy for both local cocoa farmers and cocoa processed industries. In the scheme government would give an interest subsidy which could help ease the burden of the cocoa farmers and reduce their dependency on money lenders. The result of the proposed model for the scheme could overcome the financial problems of farmer and raw material problem for the cocoa processed industries. Using the scheme, the proportion of the local fermented cocoa bean as a raw material increases from 35,3% to 72,4%, while the import of cocoa bean falls from 64,7% to 27,6%. The farmers could get an increase in the benefit value as large as 229,8% of the value without the scheme while the total benefit value for national cocoa system increases by 19,5%.
References
Badan Kebijakan Fiskal (BKF). (2012). Kajian Perkembangan Perekonomian Kakao Nasional Pasca Pengenaan Bea Keluar Biji Kakao. Kementerian Keuangan. Jakarta.
Badan Pengawas Perdagangan Berjangka Komoditi (BAPPEBTI). (2011). Kajian Pengembangan Sistem Resi Gudang untuk Komoditi Kakao. Kementerian Perdagangan. Jakarta.
Coleman, A dan Valeri, L.M. (2006). Storage and Warehouse Receipt as Financing Instruments. EEAESEM/ 2006/2046/WR-malaguzzivaleri.
Coulter, J., dan Onumah, G. (2002). The Role of Warehouse Receipt Systems in Enhanced Commodity Marketing and Rural Livelihoods in Africa. Journal of Food Policy, 27, pp. 319–337.
Kementerian Keuangan. (2009). Peraturan Menteri Keuangan Nomor 171/PMK.05/2009 tentang Skema Subsidi Resi Gudang. Kementerian Keuangan. Jakarta.
Kementerian Perindustrian. (2011). Outlook Industri 2012: Strategi Percepatan dan Perluasan Agroindustri. Kementerian Perindustrian. Jakarta.
Maurya, R. (2011). Algebra of Microfinance: Policy Perspectives. International Journal of Business Economics and Management Research, 2, pp. 165- 171.
Morduch, J. (1999). The Microfinance Promise. Journal of Economic Literature, 37, pp. 1569-1614.
Pusat Data dan Sistem Informasi Pertanian, Kementerian Pertanian. (2012). Outlook Komoditas Perkebunan. Jakarta: Kementerian Pertanian.
Sutopo, W., Nur Bahagia, S., Cakravastia, A., dan Arisamadhi, T.M.A. (2012). A Buffer Stock Model to Ensure Price Stabilization and Availability of Seasonal Staple Food under Free Trade Considerations. ITB Journal Engineering Science, Vol. 44 (2), pp. 128-147.
Waljianah, R., dan Wulandari, F. (2013). Determinan Tingkat Suku Bunga Pinjaman Perbankan di Indonesia Periode Juli 2005 - Desember 2011. Jurnal Ilmiah Jurusan Ilmu Ekonomi, Fakultas Ekonomi dan Bisnis. Universitas Brawijaya, Malang.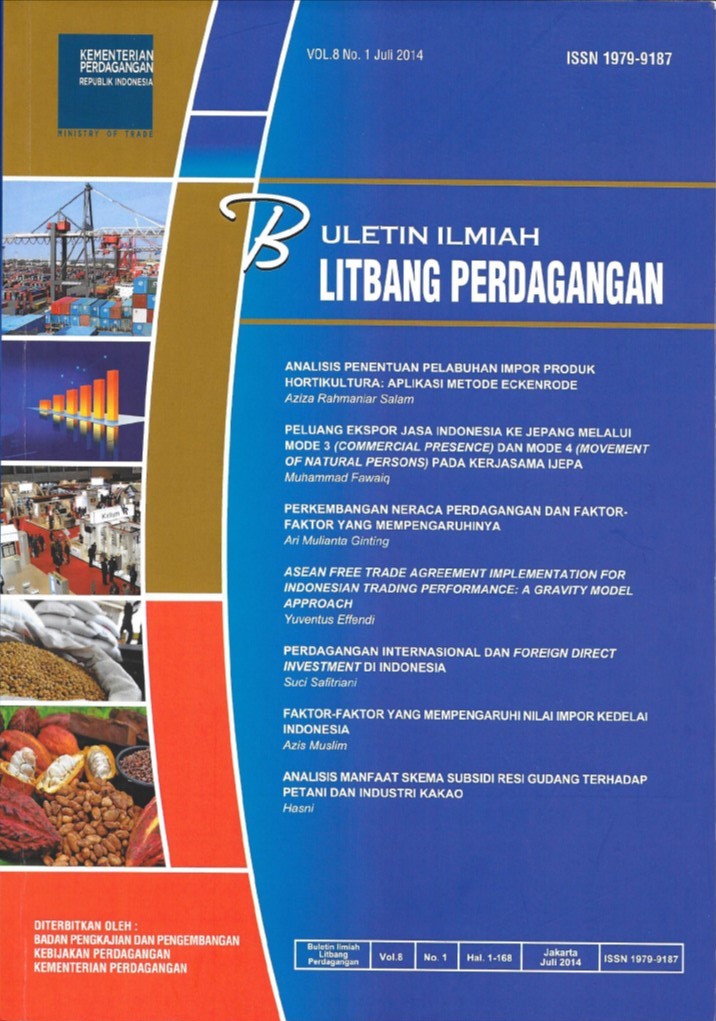 How to Cite
Hasni, . (2014). ANALISIS MANFAAT SKEMA SUBSIDI RESI GUDANG TERHADAP PETANI DAN INDUSTRI KAKAO. Buletin Ilmiah Litbang Perdagangan, 8(1), 139-161. https://doi.org/10.30908/bilp.v8i1.91
Copyright (c) 2017 Buletin Ilmiah Litbang Perdagangan
This work is licensed under a Creative Commons Attribution-ShareAlike 4.0 International License.