PELUANG EKSPOR JASA INDONESIA KE JEPANG MELALUI MODE 3 (COMMERCIAL PRESENCE) DAN MODE 4 (MOVEMENT OF NATURAL PERSONS) PADA KERJASAMA IJEPA
Muhammad Fawaiq

Kementerian Perdagangan
DOI:
https://doi.org/10.30908/bilp.v8i1.84
Abstract Views: 530 |
PDF Downloads: 509
Keywords:
Pemanfaatan, IJEPA, Peluang Ekspor, Perdagangan Jasa, Utilization, Export's Opportunities, Trade in Services
Abstract
Kemitraan ekonomi Indonesia dan Jepang (IJEPA) telah diratifikasi pada tahun 2008. Dalam lima tahun implementasinya, pemanfaatan sektor jasa Jepang oleh Indonesia hanya terbatas pada jasa perawat dan caregiver. Penelitian ini bertujuan memberikan informasi mengenai komitmen Jepang dan identifikasi sektor jasa yang dibuka oleh Jepang. Penelitian ini menggunakan metode deskriptif untuk membandingkan komitmen antara Indonesia dengan Jepang dan metode Indeks Hoekman untuk memetakan tingkat komitmen sektor jasa kedua negara. Hasil penelitian menunjukkan bahwa Jepang membuka 137 sub sektor dan rata-rata sebanyak 100 sub sektor diantaranya dibuka tanpa persyaratan. Peluang ekspor tertinggi Indonesia ke Jepang pada moda 3 dan moda 4 yaitu 27 sub sektor jasa bisnis, lima sub sektor jasa komunikasi, dua sub sektor jasa pendidikan, empat sub sektor jasa lingkungan, tiga sub sektor jasa pariwisata, empat sub sektor jasa rekreasi, budaya dan olah raga, enam sub sektor jasa transportasi dan lima sub sektor jasa lainnya. Untuk dapat memanfaatkan peluang tersebut maka pemerintah Indonesia perlu mempromosikan sektor jasanya ke Jepang dan melakukan negosiasi lanjutan terkait penghapusan hambatan-hambatan lain di sektor jasa.
Indonesia-Japan Economic Partnership Agreement (IJEPA) has been ratified in 2008. During the 5 years-implementation, Indonesia has been utilizing nurse and caregiver sectors. This research aims to review Japan's commitment on trade in services and to identify which sectors/sub-sectors that could benefit Indonesia. Descriptive analysis is used to compare the commitments in services sector between Indonesia and Japan and Hoekman Index to map the degree of commitments. The results showed that Japan has committed to open 137 subsectors and to give full commitment to 100 subsectors. Among the services subsectors that can be utilized by Indonesia through Mode 3 (commercial presence) and Mode 4 (movement of natural person) are 27 in businesses, five in communication, two in education, four in recreation, six in transportation and five in other services. This study recommends Indonesia to promote her services sector to Japan and to negotiate in reducing other barriers in services sector.
References
CIA Factbook. (2012). The World Factbook CIA. Diunduh 10 Maret 2013 dari https://www.cia.gov/library/publications/ the-world-factbook/geos/id.html.
Ditjen KPI. (2007). Agreement Between The Republic Of Indonesia And Japan For An Economic Partnership. Diunduh 1 September 2013 dari http://ditjenkpi.kemendag.go.id /website_kpi/Umum/IJEPA/Basic%20A greement%20%28ID%29 .pdf
Fokunaga, Y., dan I. Isono. (2013). Taking ASEAN+1 FTAs Toward the RCEP A Mapping Study. ERIA.
Francois, J., dan B. Hoekman. (2010). Services Trade and Policy. Journal of Economic, Vol. 48: 642-685.
Friawan, D. (2012). Liberalisasi Sektor Jasa Di Indonesia: Masalah dan Kebutuhan Pengembangan Kapasitas.
Ishido, H. (2011). Liberalization of Trade in Services under ASEAN+n: A Mapping Exercise. ERIA.
Phili, P. L dan M.A. Ferretti. (2008). International Investment Pattern. The Review of Economics and Statistics, Vol. 90, No. 3: 538-549.
Manning, C dan H. Arwicahyono. (2012) Perdagangan di Bidang Jasa dan Ketenagakerjaan: Kasus Indonesia. International Labour Organization.
Markusen, J., F.T. Rutherford dan D. Tarr. (2005). Trade and Direct Investment in Producer Services and The Domestic Market for Expertise. The Canadian Journal of Economics, Vol. 38, No. 3:758-777.
Matto, A., M. Sterm, dan G. Zanini. (2007). A Handbook of International trade in Services (Oxford: Oxford University Press), 6-5.
Nefussi, B., dan C. Schwellnus. (2010). Does FDI in manufacturing cause FDI in business services? Evidence from French firm-level data. The Canadian Journal of Economics / Revue canadienne d'Economique, Vol. 43, No. 1: 180-203.
Public Citizen. (2006). WTO General Agreement on Trade in Services (GATS) Glossary. Diunduh 10 Maret 2013 dari http://www.citizen.org/documents/gloss ary_final_03-06.pdf.
Pusat Kebijakan Kerjasama Perdagangan Internasional. (2013). Kajian Dampak Implementasi IJEPA dalam Sektor Jasa bagi Perdagangan Indonesia. Puska KPI, Kementerian Perdagangan.
Kementerian Hukum dan Hak Asasi Manusia (Kemenkumham). (2008).Peraturan Presiden Republik Indonesia Nomor 36 Tahun 2008 Tentang Pengesahan Persetujuan Antara Republik Indonesia dan Jepang Mengenai Suatu Kemitraan Ekonomi. Diunduh 23 September 2013 dari http://hukum.unsrat.ac.id/pres/perpres_ 36_2008.pdf.
Sunesen, R. E, F.J. Francois, dan M. H. Thelle. (2009). Assessment of Barriers to Trade and Investment Between The Eu and Japan (Copenhagen: Copenhagen: Economics). 104-112.
World Trade Organization (WTO). (1991). Services Sectoral Classification List (MTN.GNS/W/120) (Geneva: WTO Secretariat), 7-1.
World Trade Organization (WTO). (2001).Guidelines For The Scheduling Of Specific Commitments Under The General Agreement On Trade In Services (Document S/L/92) (Genev: WTO Secretariat), 13-3.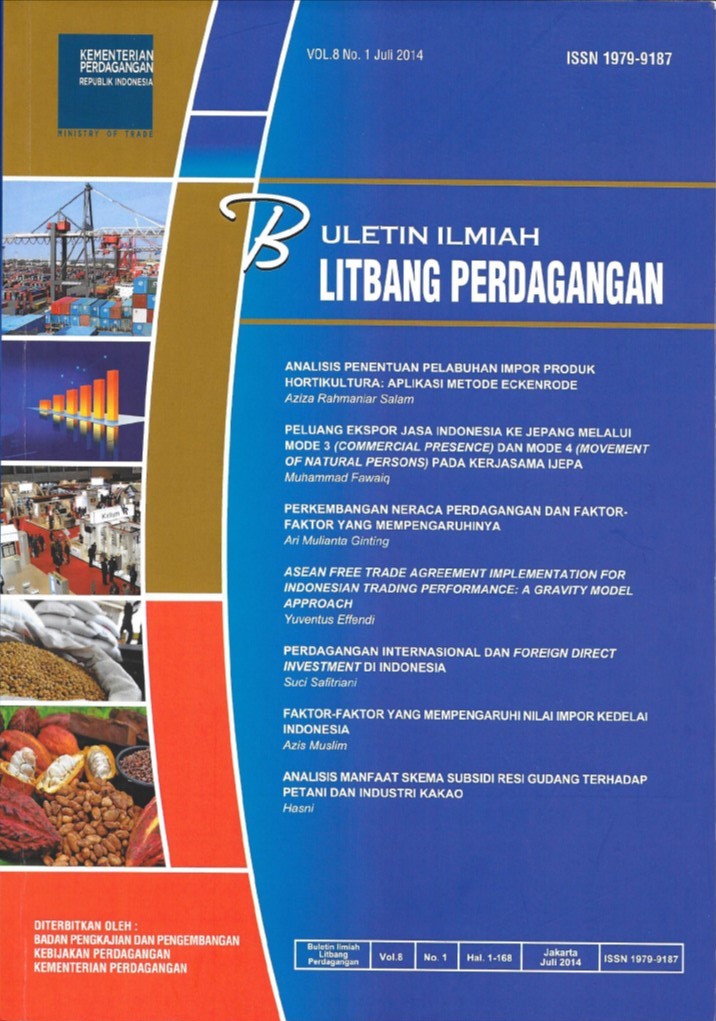 How to Cite
Fawaiq, M. (2014). PELUANG EKSPOR JASA INDONESIA KE JEPANG MELALUI MODE 3 (COMMERCIAL PRESENCE) DAN MODE 4 (MOVEMENT OF NATURAL PERSONS) PADA KERJASAMA IJEPA. Buletin Ilmiah Litbang Perdagangan, 8(1), 25-50. https://doi.org/10.30908/bilp.v8i1.84
Copyright (c) 2017 Buletin Ilmiah Litbang Perdagangan
This work is licensed under a Creative Commons Attribution-ShareAlike 4.0 International License.