ANALISIS STRUKTUR, PERILAKU DAN KINERJA PERUSAHAAN ELEKTRONIK SETELAH PELAKSANAAN LIBERALISASI ACFTA
Adrian D Lubis

Kemeterian Perdagangan

Alla Asmara

Institut Pertanian Bogor
DOI:
https://doi.org/10.30908/bilp.v6i2.118
Abstract Views: 779 |
PDF Downloads: 697
Keywords:
Industri Elektronika, Liberalisasi, ISP, IIT, SCP, Electronic Industry, Liberalization
Abstract
Studi ini mengkaji kondisi riil industri elektronik nasional setelah pelaksanaan liberalisasi perdagangan ASEAN China Free Trade Agreement (AFCTA) dengan menggunakan Indeks Spesialisasi Perdagangan (ISP), Intra Industry Trade (IIT) dan struktur, perilaku dan kinerja industri eletronik. Hasil analisis mengindikasikan bahwa liberalisasi menyebabkan penurunan kinerja industri elektronik akibat ketergantungan pada bahan baku impor, keterbatasan infrastruktur, industri penunjang, tenaga kerja terlatih, serta biaya listrik tinggi. Namun, liberalisasi meningkatkan akses bahan baku murah, tehnologi baru, efisiensi perusahaan dan kemampuan desain sebagai penunjang daya saing. Oleh karena itu, direkomendasikan pengembangan industri hulu, penyediaan sumber energi murah, perlindungan hak cipta, serta pemberlakuan trade remedies untuk meningkatkan kinerja industri elektronik nasional.
This study is about the analysis on actual condition for the Indonesian electronic industry after the implementation of the ASEAN China Free Trade Agreement (AFCTA) using Trade Specialization Index and Structure-Conduct-Performance (SCP). The study found that Indonesia's trade performance has become less competitive. This condition occured due to the lack of national competitiveness subject to high dependency on imported raw materials, supporting industry, expensive electricity and skilled labors. However, liberalization has been increasing Indonesia's access to cheap raw material, new technology, efficiency, and design capability. This study reccomends that in order to to increase domestic electronic industry performance, Indonesia has to build supporting industry, cheap electricity, enforcement of copyright, and trade remedies application to increase domestic electronic industry performance.
References
Badan Pusat Statistik. (2010). Produk Domestik Bruto. Diunduh tanggal 7 Januari 2011 dari http://www.bps.go.id/ aboutus.php?tabel=1&id_subyek=11.
Chirathivat, S. (2002). ASEAN-China Free Trade Area: Background, Implications and Future Development. Journal of Asian Economics Vol.13 (5), pp. 671– 86.
Harvie, C dan Lee. (2003). Export Led Industrialisation and Growth – Korea's Economic Miracle 1962-89. Economics Working Paper Series 2003. University of Wollongong
Hasibuan, N. (1993). Ekonomi Industri: Persaingan, Monopoli dan Regulasi. LP3ES, Jakarta.
Jaya, W. K. (2001). Ekonomi Industri. Edisi Ke-2. BPFE, Yogyakarta. Juanda, B. (2009). Metodologi Penelitian Ekonomi dan Bisnis. IPB Press, Bogor.
Kadin Indonesia. (2007). Visi 2030 dan Roadmap 2010 Industri Nasional. Kadin Indonesia. Jakarta.
Kementerian Perindustrian. (2011). Ekspor dan Impor. Diunduh tanggal 8 Maret 2012 dari http://www.kemenperin.go.id/ Ind/Statistik/Indikator/exim.aspx.
Kementerian Perdangan. (2012). Indeks Spesialisasi Perdagangan. Diunduh pada Juni 2012 dari http://www. kemendag.go.id/addon/depdag_isp.
Kim, J.K., Sang D.S., dan Jun I.K. (1995). Chapter Title: The Role of the Government in Promoting Industrialization and Human Capital Accumulation in Korea. University of Chicago Press.
Lubis, A., B. Soemarjono, R. Ningsih, D. Narindra, H. Manullang, S. Kusyatiningsih, F. Helen. (2011). Analisis Kepentingan Indonesia Dalam Usulan Liberalisasi Produk Elektronik. Puska KPI, BPPKP. Jakarta.
Mason, E. S. (1939). Price and production policies of large-scale enter- prise. American Economic Review. Ed. 29 page 61-74.
Ogujiuba, Nwogwugwu, dan Dike. (2011). Import Substitution Industrialization as Learning Process: Sub Saharan African Experience as Distortion of the "Good" Business Model. Business and Management Review Vol. 1(6) pp. 08 – 21, August, 2011.
Park, D., I. Park, G. Esther, and B. Estrada. (2008). Prospects of an ASEAN– People's Republic of China Free Trade Area: A Qualitative and Quantitative Analysis. Economics Working Paper Series No. 30, Asian Development Bank.
Pusat Data dan Informasi (Pusdata) (2012). Kinerja Ekspor dan Impor. Kementerian Perdagangan Jakarta.
Salvatore, D. (1997). Ekonomi Internasional. Edisi Kelima. Penerjemah Haris Munandar. Penerbit Erlangga. Jakarta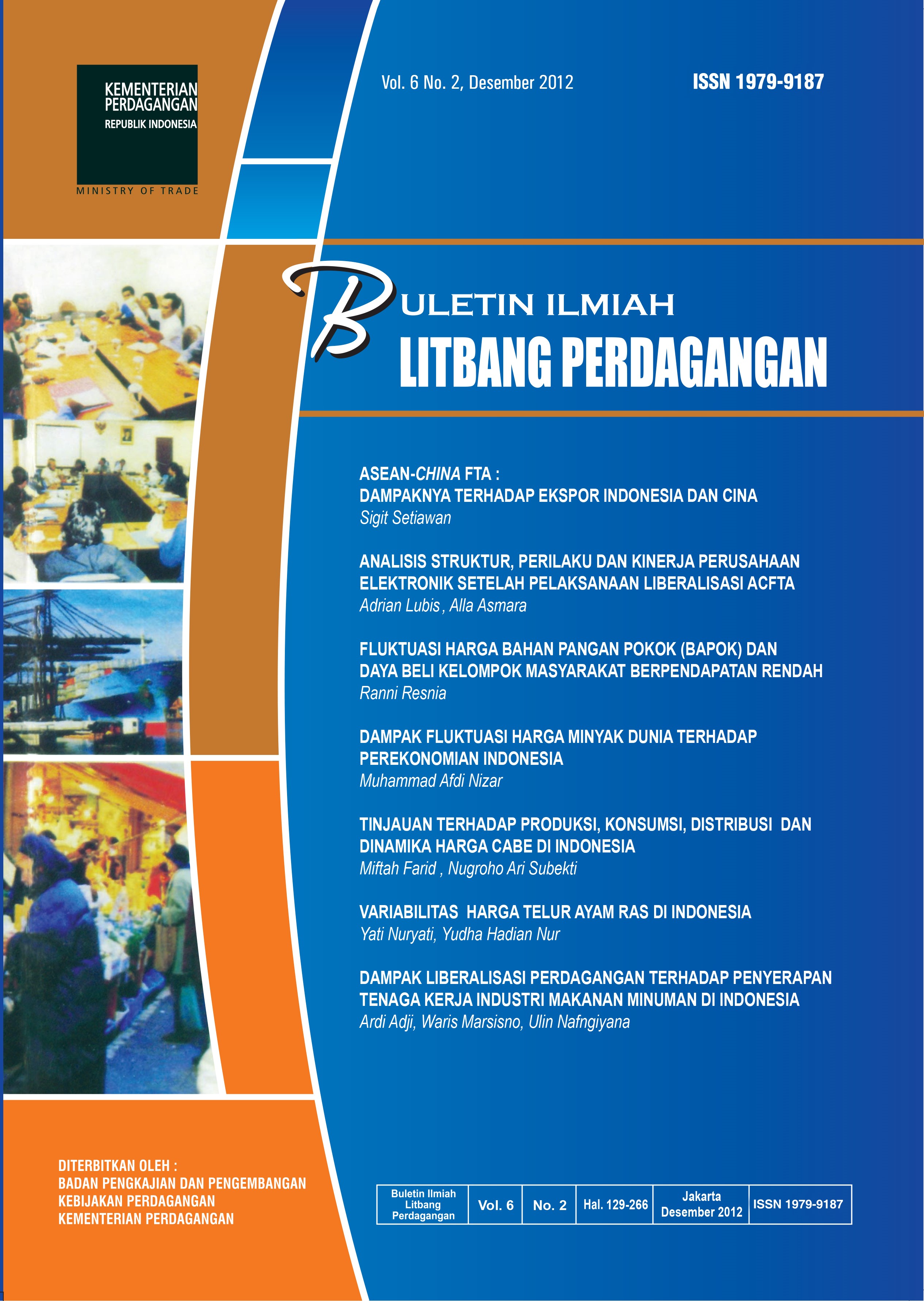 How to Cite
Lubis, A. D., & Asmara, A. (2012). ANALISIS STRUKTUR, PERILAKU DAN KINERJA PERUSAHAAN ELEKTRONIK SETELAH PELAKSANAAN LIBERALISASI ACFTA. Buletin Ilmiah Litbang Perdagangan, 6(2), 151-168. https://doi.org/10.30908/bilp.v6i2.118
Copyright (c) 2017 Buletin Ilmiah Litbang Perdagangan
This work is licensed under a Creative Commons Attribution-ShareAlike 4.0 International License.