THE COMPETITIVENESS OF INDONESIAN PRODUCT IN TRADE RELATIONSHIP WITH CHINA
Umar Fakhrudin

Kementerian Perdagangan
DOI:
https://doi.org/10.30908/bilp.v5i2.143
Abstract Views: 195 |
PDF Downloads: 120
Keywords:
Trade, China, Competitiveness, International Competitiveness Coefficient
Abstract
Hubungan perdagangan Indonesia dan China semakin erat setelah implementasi ASEAN-China Free Trade Agreement (ACFTA) dimulai pada bulan Juli 2005. Krisis keuangan global dan pertumbuhan ekonomi China yang cukup tinggi merupakan fenomena lain yang berkontribusi pada semakin eratnya hubungan kedua negara. Tulisan ini mencoba menganalisis daya saing produk Indonesia dalam hubungan perdagangan dengan China dengan menggunakan analisis statistik Koefisien Daya Saing Internasional (ICC). Hasil analisis menunjukkan bahwa hubungan perdagangan antara Indonesia dan China memberikan daya saing lebih untuk China. Walaupun demikian, ada beberapa produk Indonesia yang memiliki daya saing tinggi dan mengalami peningkatan selama periode tahun 2005 -2009. Produk –produk tersebut antara lain; daging, kakao, karet dan produk karet, bahan anyaman (termasuk rotan dan bambu), tekstil dan garmen, alas kaki, serta bahan tambang seperti besi dan batubara.
References
Pangestu, Mari Elka. 2010. Di Cina Juga Ada yang Belum Siap. Tempo Online, Retrieved from http://majalah.tempointeraktif.com/ id/arsip/2010/04/12/WAW/mbm. 20100412.WAW133238.id.html. accessed at February 18th, 2011 07:00 am.
Ministry of Trade, Republic of Indonesia. 2010. The Indonesian Ministry of Trade Pers Release, February 2010.
Tambunan, Tulus & Agustina Suparyati. 2009. ASEAN-China Trade Liberalisation Effect on Indonesian Agricultural Production and Trade. policy Discussion paper series. Center For Industry. Sme & Business Competition Studies, Trisakti University. Retrieved from http://www.fe.trisakti.ac.id/ pusatstudi_industri/pusat%20study %20tulus%20tambunan/pusat%20 studi/policy%20discussion%20 paper/pdf3.pdf. accessed at February 20th, 2011 08:00 pm.
World Integrated Trade Solution (WITS). 2011. Retrieved from http://wits. Worldbank.org. accessed February 10th, 2011 09:00 pm.
Yanuarti, Astari, Cavin R. Manuputty, & Anthony Djafar. 2010. ACFTA: Mencari Keseimbangan GarudaNaga. Ekonomi, Gatra, 26. Retrieved from http://web.gatra. com/versi_cetak.php?id=137497. accessed at February 18th, 2011 09:00 am.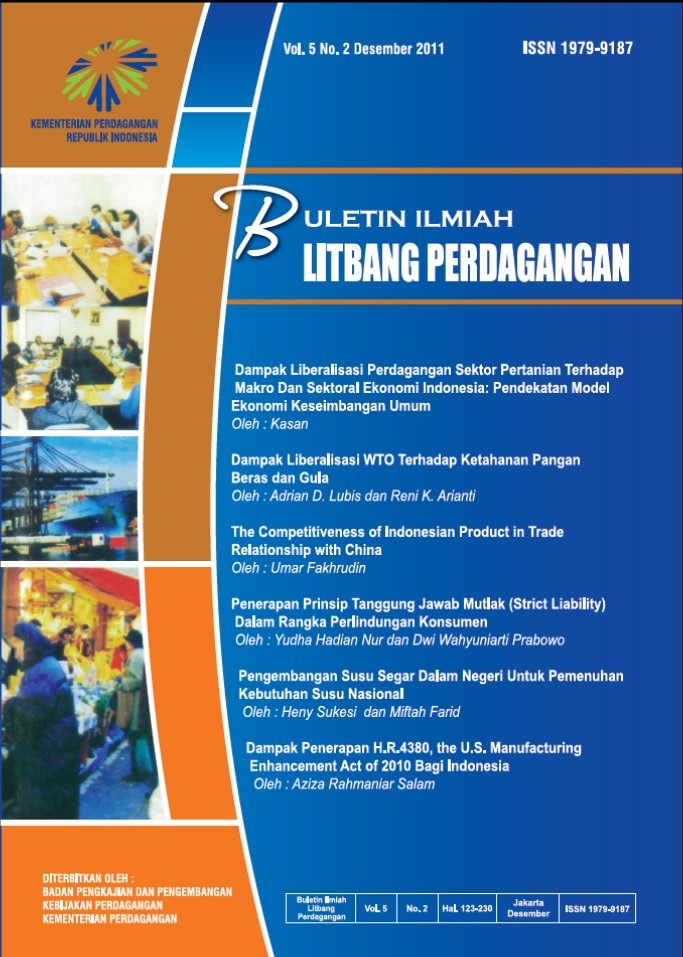 How to Cite
Fakhrudin, U. (2011). THE COMPETITIVENESS OF INDONESIAN PRODUCT IN TRADE RELATIONSHIP WITH CHINA. Buletin Ilmiah Litbang Perdagangan, 5(2), 164-176. https://doi.org/10.30908/bilp.v5i2.143
Copyright (c) 2017 Buletin Ilmiah Litbang Perdagangan
This work is licensed under a Creative Commons Attribution-ShareAlike 4.0 International License.