DAMPAK KEBIJAKAN PERDAGANGAN GULA TERHADAP PROFITABILITAS USAHA TANI TEBU: KASUS DI KABUPATEN KLATEN JAWA TENGAH
Tjetjep Nurasa

Departemen Pertanian

Iwan Setiajie A.

Departemen Pertanian
DOI:
https://doi.org/10.30908/bilp.v2i2.176
Abstract Views: 432 |
PDF Downloads: 148
Keywords:
Farming sugar cane, Trade policy
Abstract
Trade policy does not only affecting the sugar cane at macro level, but also in micro level through the price mechanism of output change. The prices increases in 3 scenarios, that are the suger price at producer price from IDR 3,410 to IDR 1,461,3 for the A scenario, to IDR 2,600 for the B scenario, to IDR 2,270 for C scenario. The adantage of sugar cane farming in district of Klaten, Central Java in planning smaller than keprasan. This isdue to the expensive of preparation of crop, seed and plant, where as in keprasan doess not need it, Even, the advantages of earty harvest in non irrigation area in Klaten district decreased sharply. All policyes scenarios causes advantage of natura sugar cane in degradation sharply in which those scenarios cause advantages tend to negative. It means non profit nor in rice field either in non irrigated. While the crop of ratoon (keprasan), the profit decrease but non negative. This means that the farmer sugar cane will poor extremally if they are in protection tariff. Abolition policy of tariff or non-tariff is also will cause decreases profits. Therefore, the combination policy of tariff and non-tariff is still needed in order to protect farmer of sugar cane and national sugar industry.
References
Anonim, 1994. Uruguay Round : Schedule XXI – Indonesia (15 April 1994).
Dradjat, B., R. Suprihatini dan T. Wahyudi. 2003. Analisis Prospek dan Strategi Pengembangan Industri Hilir Perkebunan : Kasus Kakao. Lembaga Riset Perkebunan Indonesia. Bogor.
Erwidodo, Hermanto dan H. Pudjiastuti. 2003. Impor Jagung : Perlukah Tarif Impor Diberlakukan? Jawaban Hasil Simulasi. Jurnal Agro Ekonomi 21 (2) : 175-195.
Erwidodo and P.U. Hadi. 1999. "Effects of Trade Liberalization on Agriculture in Indonesia : Commodity Aspects". Working Paper 48. The CGPRT Centre. Bogor.
Feridhanusetyawan, T. dan M Pangestu. 2003. Indonesian Trade Liberalisation : Estimating the Gains. Bulletin of Indonesian Economic Studies 39 (1) : 51-74.
Hadi. P.U., A.H. Malian, A. Djulin, A, Agustian, S.H. Suhartini dan S.H. Susilowati. 2002. Kajian Perdagangan Internasional Komoditas Pertanian Indonesia 2001. Laporan Akhir Penelitian. Pusat Penelitian dan Pengembangan Sosial Ekonomi Pertanian bekerjasama dengan ARMP-II Badan Litbang Pertanian.
Hadi, P.U. 2000. Dampak Liberalisasi Perdagangan terhadap Profitabilitas dan Daya Saing Pabrik Minyak Kelapa. Jurnal Agro Ekonomi 18 (2) : 1-12.
Hadi, P.U. 2000. Dampak Penghapusan Subsidi Benih Terhadap Usahatani dan Usaha Perbenihan Serta Implikasinya Bagi Pengembangan Industri Perbenihan Padi Nasional. Makalah dipersiapkan sebagai respon terhadap permohonan DPP HKTI kepada Menteri Pertanian RI untuk meninjau kembali subsidi benih kepada BUMN Perbenihan. Pusat Penelitian Sosial Ekonomi Pertanian, Bogor.
Hadi. P.U. dan B. sayaka. 2000. Kajian Perkembangan Ekspor dan Impor Komoditas Pertanian Utama 1998-1999. Laporan Hasil Penelitian. Pusat Penelitian Sosial Ekonomi Pertanian, Bogor.
Hadi, P.U. 1998. Kajian Historis Kebijaksanaan Harga Gabah dan Pupuk serta Implikasi Kebijaksanaannya. Pusat Penelitian Sosial Ekonomi Pertanian, Bogor.
Hadi, P.U. 1997. Dampak Deregulasi Perdagangan terhadap Pendapatan Usahatani Kedelai di Jawa Timur. Prosiding Agribisnis Dinamika Sumberdaya dan Pengembangan Sistem Usaha Pertanian Buku II. Pusat Penelitian Sosial Ekonomi Pertanian. Bogor. Hal. 279-287.
Hadi, P.U. 1989. Alternatif Kebijaksanaan Harga untuk Meningkatkan Produksi Padi dan Pendapatan Petani. Jurnal Agro Ekonomi 8 (2) : 46-63.
Houck, J.P. 1986. Element of Agricultural Trade Policies. Macmillan Publishing Company. New York.
Katial-Zemany, A. and N.S. Alam. 2002. Indonesia Sugar Semi-Annual 2002. GAIN Report. USDA.
Kindleberger, C.P. and D.H. Lindert. 1982. International Economics. Richard D. Irwin. California.
Pambudy, R., S. Mardianto, N. Pribadi, T.E.H. Basuki, dan A. Suryana. 2004. Ekonomi Gula : 11 Negara Pemain Utama Dunia. – Kajian Komparasi dan Perspektif Indonesia. Sekretariat Dewan Ketahanan Pangan. Jakarta, Indonesia.
Pambudy, R., T.E.H. Basuki, S. Mardianto, A. Jayawinata dan B.P. Wibowo. 2002. Kebijakan Perberasan di Asia. Hasil Pertemuan Regional di Bangkok, Thailand, Oktober 2002. Sekretariat Dewan Ketahanan Pangan. Jakarta, Indonesia.
Piggott, R.R., K.A. Parton, E.M.. Tredgold and B. Hutabarat. 1993. Food Price Policy in Indonesia. Monograph No. 22. ACIAR. Canberra.
PT. SKA. 2002. Kajian Fasilitas Proteksi dalam Persetujuan di Bidang Pertanian Organisasi Perdagangan Dunia (AoA – WTO). Laporan Akhir. PT. Santika Kusuma Agung Jakarta.
Ruffler, T. 2003. Special Product Thinking Through the Details. Oxford Policy Management.
Sawit, M.H. 2004. GATT, Perjanjian Pertanian (AoA) WTO, dan Paket Huli. Makalah disampaikan pada Peneliti/Pejabat Badan Litbang Pertanian, Bogor, 9 November 2004.
Simatupang, P. 2003. Justifikasi dan Metode Penetapan Komoditas Strategis. Makalah yang belum dipublikasikan. Pusat Penelitian dan Pengembangan Sosial Ekonomi Pertanian.
Sudaryanto, T., P.U. Hadi, S.H. Susilowati dan E. Suryani. 1999. Analisis Kebijaksanaan Perdagangan dan Harga Komoditi Pertanian. Pusat Penelitian Sosial Ekonomi Pertanian. Bogor.
WTO. 1995. The Results of the Uruguay Round. World Trade Organization.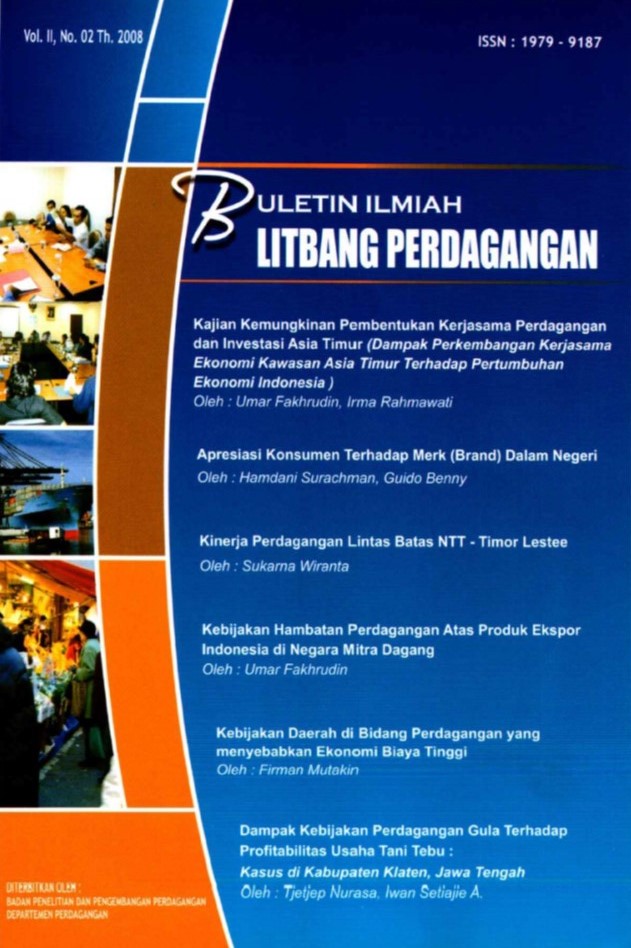 How to Cite
Nurasa, T., & A., I. S. (2008). DAMPAK KEBIJAKAN PERDAGANGAN GULA TERHADAP PROFITABILITAS USAHA TANI TEBU: KASUS DI KABUPATEN KLATEN JAWA TENGAH. Buletin Ilmiah Litbang Perdagangan, 2(2), 264-286. https://doi.org/10.30908/bilp.v2i2.176
Copyright (c) 2017 Buletin Ilmiah Litbang Perdagangan
This work is licensed under a Creative Commons Attribution-ShareAlike 4.0 International License.