FLUKTUASI HARGA BAHAN PANGAN POKOK (BAPOK) DAN DAYA BELI KELOMPOK MASYARAKAT BERPENDAPATAN RENDAH
Ranni Resnia

Kementerian Perdagangan
DOI:
https://doi.org/10.30908/bilp.v6i2.130
Abstract Views: 698 |
PDF Downloads: 934
Keywords:
Harga Pangan, Daya Beli, Kelompok Berpendapatan Rendah, Food Price, Welfare, Fixed and Low-Income Group
Abstract
Harga bahan pangan pokok cenderung meningkat selama 3 tahun terakhir dan diprediksi akan terus naik. Harga tersebut naik 5-12% per tahun selama tahun 1999-2011. Harga beras, gula dan daging ayam juga cukup berfluktuasi dengan Koefisien Keragaman masingmasing sebesar 13,7%, 10,0% dan 9,1%. Hasil analisis paritas impor juga menunjukkan bahwa perbedaan harga eceran domestik untuk beras dan tepung terigu dengan paritas impornya adalah 20,0% dan 59,4 %. Hal ini menunjukkan bahwa konsumen tidak menerima harga yang seharusnya yang mungkin disebabkan oleh tidak efisiennya proses produksi dan distribusi serta struktur pasar yang kurang kompetitif. Namun demikian, kenaikan harga-harga tersebut tidak dapat dikompensasikan secara proporsional oleh kenaikan pendapatan beberapa kelompok masyarakat. Oleh karena itu analisis ini bertujuan untuk memberikan gambaran pengaruh dinamika harga bahan pangan pokok terhadap daya beli masyarakat berpendapatan rendah dengan metode rasio dan indeks. Hasil analisis menunjukkan khususnya pada krisis pangan tahun 2009, daya beli mereka turun 1–5%. Selama periode tersebut, daya beli buruh tani dan bangunan masing-masing turun 5% dan 3%. Bahkan, sejak tahun 2005 daya beli buruh manufaktur sudah mengalami penurunan.
Prices of staple  foods  have been increasing for last three years and estimated to continue to rise. The prices have grown 5-12% annually during the period of 1999-2011. In particular, prices of rice, sugar and chicken meat were also considerably fluctuated with Coefficient of Variation (CV) of 13.7%, 10,0% and 9.1%, respectively. Additionally, import parity analysis shows that discrepancies between domestic retail price of rice and wheat flour and their import parity reached 20,0%  and 59.4%, respectively. This indicates that consumers receive higher prices than they should have due to inefficiency in production process, distribution and less competitive market structure. Nonetheless, the price hikes are not fully compensated by wage increase of low-income groups. In the period of 2009 food crisis, their  purchasing power declined by 1–5%. During the period, purchasing power of labors in agriculture and construction sector was declining by 5% and 3% respectively. Purchasing power of labors in manufacturing sector has even started declining since 2005.
References
BPS. (2007). Survey Biaya Hidup (SBH) 2007. Badan Pusat Statistik : Jakarta
BPS. (2008). Survei Sosial Ekonomi Nasional (SUSENAS) 2008. Badan Pusat Statistik : Jakarta
Frankenberg, E., D. Thomas, and K. Beegle. (1999). The Real Cost of Indonesia's Economic Crisis : Preliminary Findings from the Indonesia Family Life Surveys. Labor and Population Program, RAND Working Paper Series 99-04.
Galtier, F. (2009). How to Manage Food Price Instability in Developing Countries. Working Paper Moisa N 5. Seminar "How to Manage Agricultural Price Volatility", Agence Francaise Pour Le Developpement Paris (FRA).
Ivanic, M. and W. Martin. (2008). Implications of Higher Global Food Price for Poverty in Low-Income Countries. World Bank Development Research Group.
Munawir, S. (2004). Analisa Laporan Keuangan (Edisi ke-4). Yogyakarta : Liberty.
Puska Dagri. (2008). Laporan Akhir Kajian Kebijakan Stabilisasi Harga Bahan Pokok. Badan Pengkajian dan Pengembangan Kebijakan Perdagangan, Kementerian Perdagangan.
Puska Dagri. (2011). Laporan Akhir Kajian Ambang Batas Intervensi Pemerintah pada Penanganan Gejolak Harga Bahan Pangan Pokok Masyarakat. Badan Pengkajian dan Pengembangan Kebijakan Perdagangan, Kementerian Perdagangan.
Rachman, H. P.S.(2005). Metode Analisis Harga Pangan.Disampaikan pada Apresiasi sistem Distribusi dan Harga Pangan oleh Badan Ketahanan Pangan di Pusat Manajemen Pengembangan SDM Pertanian, Ciawi-Bogor 3 – 5 Juli 2005. Bogor : Pusat Analisis Sosial Ekonomi dan Kebijakan Pertanian.
Riyanto, B. (1996). Dasar-Dasar Pembelanjaan Perusahaan (Edisi ke3). Yogyakarta : BPFE.
Saleh, S. (1986). Statistik Deskriptif. Yogyakarta : AMP YKPN.
Setiaji, B. (2008, 14 Februari). Pengupahan dan Kemiskinan. Harian Seputar Indonesia. Diunduh dari http://www. seputar-indonesia.com/edisicetak/ opini/pengupahan-dan-kemiskinan.
Supranto, J. (1990). Statistik : Teori dan Aplikasi (Jilid 2). Jakarta : Erlangga.
Zezza, A.,Davis, B.,Azzari, C., Covarrubias, K., Tasciotti, L.,Anriquez, G. (2009). The Impact of Rising Food Prices on the Poor. The International Association of Agricultural Economists Conference. Beijing, China, 16 – 22 Agustus 2009.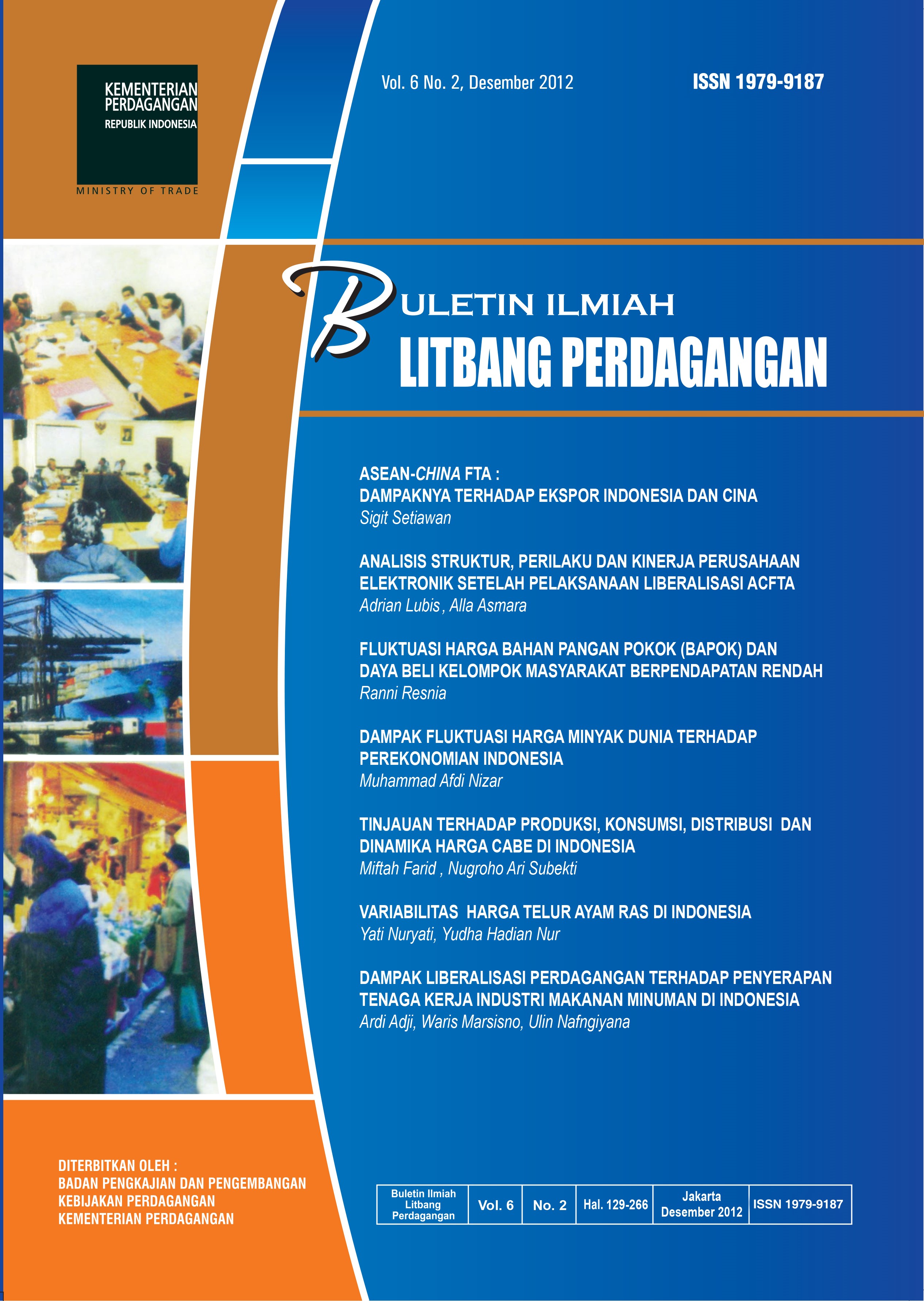 How to Cite
Resnia, R. (2012). FLUKTUASI HARGA BAHAN PANGAN POKOK (BAPOK) DAN DAYA BELI KELOMPOK MASYARAKAT BERPENDAPATAN RENDAH. Buletin Ilmiah Litbang Perdagangan, 6(2), 169- 188. https://doi.org/10.30908/bilp.v6i2.130
Copyright (c) 2017 Buletin Ilmiah Litbang Perdagangan
This work is licensed under a Creative Commons Attribution-ShareAlike 4.0 International License.