ANALISIS DAMPAK IC-CEPA TERHADAP PEREKONOMIAN INDONESIA
Fahrizal Taufiqqurrachman

Universitas Airlangga

Rossanto Dwi Handoyo

Universitas Airlangga
DOI:
https://doi.org/10.30908/bilp.v15i1.439
Abstract Views: 449 |
PDF Downloads: 192
Keywords:
IC-CEPA, GTAP, Sectoral, MAcroeconomic
Abstract
Abstrak
Perkembangan perdagangan Indonesia akan semakin bervariasi hal ini dapat dilihat dari kebijakan kementerian perdagangan yang memfokuskan untuk menjalin kerja sama perdagangan internasional dengan beberapa negara diluar negara maju. Salah satunya perdagangan bilateral Indonesia Chile dalam kerangka IC-CEPA. Penelitian ini menggunakan metode analisis Model CGE Multiregional. Model yang digunakan sudah tersusun dalam Aplikasi GTAP versi 9 Lisensi Kementerian Perdagangan yang difokuskan pada sektoral dan makro ekonomi Indonesia. Hasil olah data GTAP menunjukkan bahwa sektor yang berorientasi ekspor di Indonesia seperti textile, oil seeds, paper product and publishing, motor vehicle and parts, machinery and equipments dan electronic equipment menunjukkan hasil yang positif setelah dilakukan simulasi (shock) penurunan tarif sebesar 80 - 40 dan 0% (full liberalization). Hasil analisis menunjukkan bahwa sektor yang berorientasi pada ekspor mengalami peningkatan. Pada kondisi makroekonomi kesepakataan liberalisasi pada IC-CEPA mampu mempengaruhi kesejahteraan yang terus meningkat. Oleh karena itu, diperlukan adanya integrasi yang solid antara pemerintah dan para pelaku usaha yang bergerak di bidang sektor ekspor Indonesia dengan memberikan kebijakan yang mampu mengoptimalkan kuantitas dan menjaga kualitas sektor tersebut dalam bersaing di pasar Chile.
Kata kunci: IC-CEPA, GTAP, Sektoral, Makroekonomi
Abstract
The Indonesia's trade development is increasingly varied, shown by the ministry of trade's policy which focuses more on establishing international trade cooperation with countries outside developed countries. One of them is bilateral trade between Indonesia and Chile in the framework of IC-CEPA. The research uses analysis method of the Multiregional CGE Model. The model used has been arranged in the GTAP Application version 9 of the Ministry of Trade License which focused on the sectoral and macroeconomics of Indonesia. The results of the analysis show that Indonesia's export-oriented sectors such as textiles, oil seeds, paper products and publishing, motor vehicles and parts, machinery and equipment and electronic equipment positively impacted by tariff reduction of 80 - 40 and 0 percent (full liberalization). The analysis shows that the export-oriented sector increased. The agreement on liberalization of IC-CEPA is able to influence welfare increasing. Therefore, it is necessary to have a solid integration between the government and business players engaged in Indonesian export commodities by providing policies that are able to optimize the quantity and maintain the quality of the sector in competing in the Chilean market.
Keywords: IC-CEPA, GTAP, Sectoral, Macroeconomics
JEL Classifications: F13, F18, F62
References
Furkon, Moh Hami. (2015). Dampak Perjanjian ASEAN-Korea FTA Bagi Indonesia Pada Sektor Jasa-Jasa : Pendekatan Global Trade Analysis Project (GTAP) Versi 8. Skripsi Semarang. Program Sarjana Universitas Dipenogoro.
Hutabarat, Budiman. (2007). Analysis of Free Trade Agreement between Indonesia and China and AFTA Cooperation and ITS Impact on Indonesia Agricultural Commodity Trade. Indonesia Center for Agriculture Socio Economic and Policy Studies. Indonesian Agency for Agriculture Research and Development. Ministry of Agriculture.
Kartini, K., & Margaret, S. (2020). Dampak Kebijakan Tarif Terhadap Sektor Pertanian di Indonesia: Global Trade Analysis Project (GTAP). Jurnal Ekonomi Indonesia, 10(1).
Kedutaan Besar Republik Indonesia Santiago – Chile. (2017). Laporan Penandatanganan Indonesia- Chile Comprehensive Economic Partnership Agreement (IC-CEPA) dan Misi Dagang Indonesia ke Chile Santiago, Chile. Av Las Urbinas 160, Providencia.
Kementerian Perdagangan. (2020). Neraca Perdagangan Indonesia dengan Chile. Diunduh tanggal 26 Januari 2020 dari https://statistik.kemendag.go.id/balance-of-trade-with-trade-partner-country
Kementerian Perdagangan. (2020). Indonesia-Chile Factsheet Comprehensive Economic Partnership Agreement. Diunduh tanggal 30 Januari 2020 dari http://ditjenppi.kemendag.go.id/assets/files/publikasi/doc_20190812_fact-sheet-indonesia-chile-cepa.pdf
Kementerian Perdagangan. (2020). Sumber dari Internet Tentang Webinar DPB#3: Memetik Manfaat dari Indonesia-Chile CEPA. Diunduh tanggal 10 Juni 2020 dari https://www.youtube.com/watch?v=x40FuGZJcAY&t=3939s
Kementerian Perdagangan. (2020). Peraturan Menteri Perdagangan Republik Indonesia No 27/M DAG/PER/4/2015 Tentang Rencana Strategis Kementerian Perdagangan Tahun 2015-2019. Jakarta.
Maria, Anita. (2019). Upaya Pemerintah dalam Membantu Tiga Komoditas Ekspor Unggulan Indonesia ke Chile dalam Kerangka IC-CEPA pada Tahun 2014-2019. Universitas Katolik Parahyangan. Bandung.
Parna, Dedi. (2017). Kepentingan Indonesia Dalam Menggagas Perundingan Regional Comprehensive Economy Partnership. Kampus Bina Widya Simpang Baru-Pekanbaru, Riau.
Paryadi, Deky dkk. 2018. Dampak Kerjasama Perdagangan Indonesia dengan EURASIAN ECONOMIC UNION (EAEU) Terhadap Perekonomian Indonesia. Pusat Kajian Kerjasama Perdagangan Internasional, Kementerian Perdagangan-RI. Jakarta.
Qurata A'yun, Khaulah. (2018). Analisis Dampak Indonesia-Japan Economic Partnership Agreement (Ijepa) Terhadap Kondisi Makro Dan Sektoral Ekonomi Indonesia: Pendekatan Global Trade Analysis.
Salvatore, Dominick. (2004). Theory and Problem of Micro Economic Theory. 3rd Edition. Alih Bahasa oleh Rudi Sitompul. Jakarta : Erlangga. Project (Gtap). Skripsi. Surabaya. Program Sarjana Universitas Airlangga Surabaya.
Saptanto dkk. (2017). Dampak Hambatan Non-Tarif Terhadap Kinerja Makroekonomi dari Sektor Perikanan dengan Menggunakan Pendekatan Model GTAP. Balai Besar Riset Sosial Ekonomi Kelautan dan Perikanan Gedung Balitbang KP I Lantai 4 Jakarta.
Sidabutar, Victor Tulus Pangapoi. (2017). Kajian Pengaruh Kerjasama Perdagangan Indonesia - Chile Terhadap Peningkatan Perdagangan Indonesia di Wilayah Asia Pasifik. Jurnal Aplikasi Bisnis. Vol 17 No 1.
Surjono, Nasruddin Djoko & Sabaruddin, Sulthon Sjahrir. (2014). Analisis Dampak Perdagangan Bebas Indonesia-Chili :Sebuah Masukan dalam Rangka Putaran Pertama Negosiasi Perdagangan", Jurnal Analisis CSIS Vol. 43, No. 3.
Tiara, Ayu Caesar. (2017). Faktor-Faktor Yang Mempengaruhi Terhentinya Perundingan Indonesia-Korea Comprehensive Economic Partnership Agreement (IK-CEPA) Di Tahun 2014. Skripsi. Bandung. Program Sarjana Universitas Katolik Parahiyangan.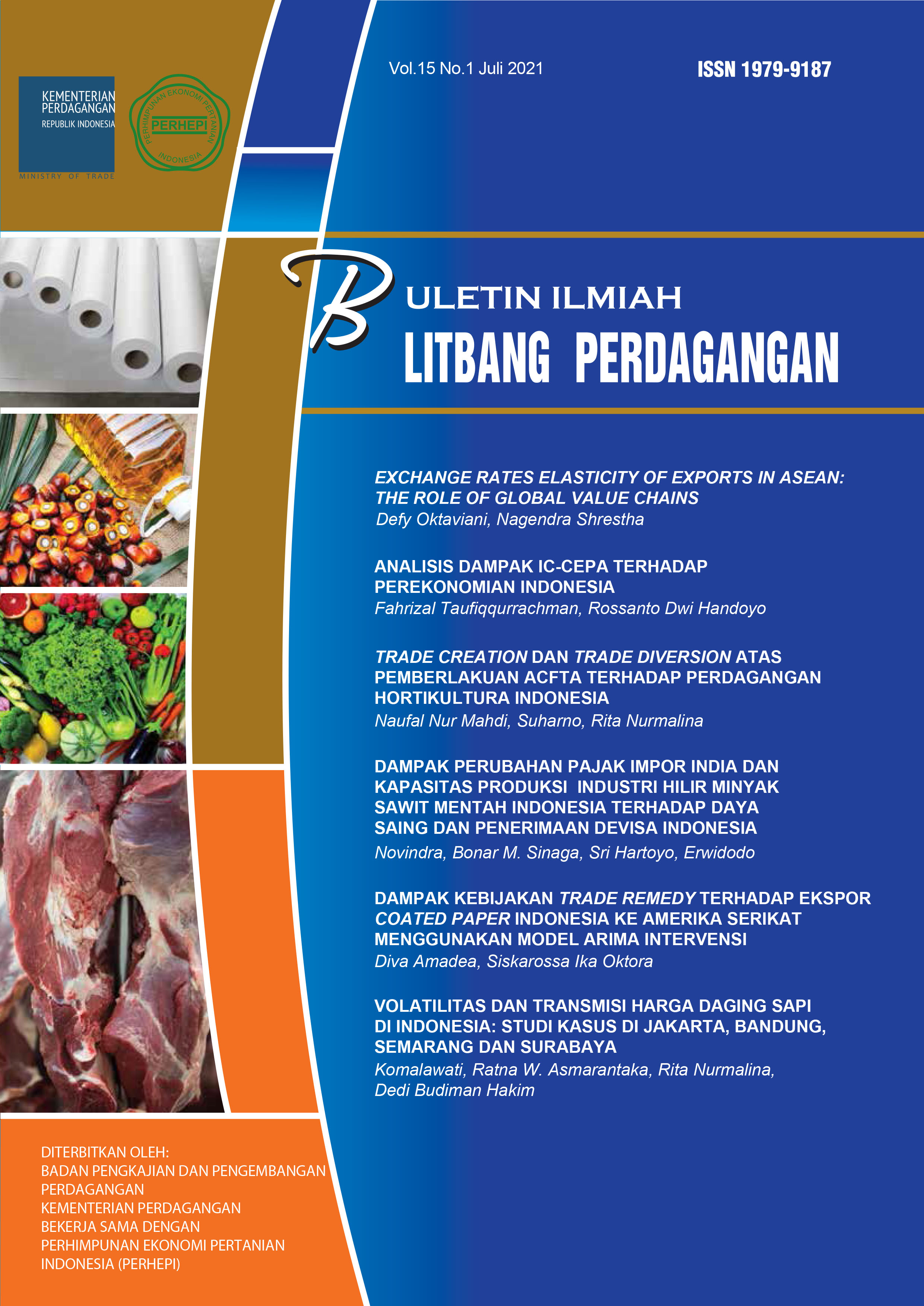 How to Cite
Taufiqqurrachman, F., & Dwi Handoyo , R. (2021). ANALISIS DAMPAK IC-CEPA TERHADAP PEREKONOMIAN INDONESIA. Buletin Ilmiah Litbang Perdagangan, 15(1), 27-50. https://doi.org/10.30908/bilp.v15i1.439
Copyright (c) 2021 Buletin Ilmiah Litbang Perdagangan
This work is licensed under a Creative Commons Attribution-ShareAlike 4.0 International License.